Looking Back on a Great Event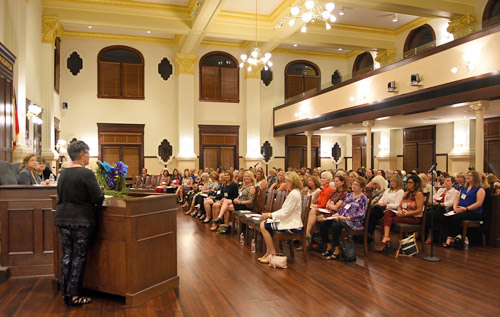 This year's Impact San Antonio Education Event was truly historic. In recognition of San Antonio's 300th Birthday, we featured Trailblazing Women who built our great city – past, present, and future. We appreciate our members and guests (about 175) who gathered in the Double Height Courtroom at the Bexar County Courthouse to hear four outstanding speakers talk about the great women of San Antonio: Angelica Decog, executive director of the UTSA Institute of Texan Cultures; Sister Mary Henry, director of the Heritage Center for the Sisters of Charity of the Incarnate Word; Jane Macon, San Antonio's first female city attorney from 1977 to 1983; and Sheryl Sculley, San Antonio City Manager since 2005. Tracy Wolff, President of The Hidalgo Foundation, provided a brief history on the restoration of the Courtroom, and Leslie Bohl, Co-anchor for News 4 San Antonio Today, once again moderated. We appreciate these extraordinary women.
The delicious refreshments were provided by another outstanding San Antonian, caterer Rosemary Kowalski, who was present at the event. If you missed it, we hope to see you at our next two events, Grant Award Night (October 25th), and then the Impact SA Celebration, Members and Agencies Making a Difference Together (November 18th).
In the meantime, click below  to see some photographs from this Historic Education Event. You may download any that you choose: 1) Click on the photo, 2) click on the downward facing arrow in the bottom right corner.