Impact SA's 13th Annual Grant Award Night!
Highlights We'll Remember!
Impact San Antonio's biggest night of the year was a great success! Approximately 400 Members and Guests mingled and enjoyed delicious hors d'oeuvres and wine at the Whitley Theological Center before hearing presentations by eight outstanding nonprofit organizations – the finalists chosen from 109 applications for our four high Impact Grants.
Here are a few highlights from our program:
The finalists presented their compelling proposals, and Members asked questions to better understand the projects presented.
Members votes were tallied and added to absentee votes.
Impact SA's 2018 Membership Drive – "Imagine Our Impact" slogan was launched and members joining and renewing each received a $25 gift certificate to Elizabeth's Boutique.
There were tears and cheers as each high Impact grant recipient was announced:

The Magik Theatre – Arts & Culture
The Ecumenical Center – Environment, Recreation & Preservation
Northside Education Foundation – Education
Project MEND – Health & Wellness

The balance of funds was shared with the remaining finalists as Support Grants.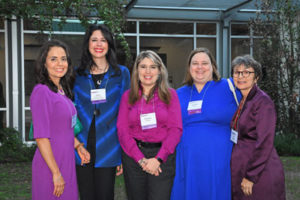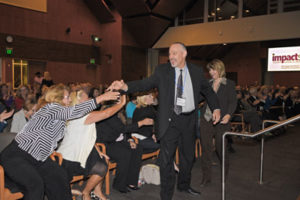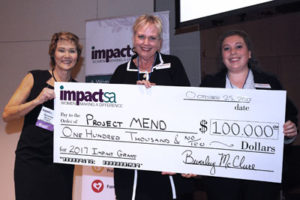 On Wednesday, November 8, the official check presentations will take place at the four Impact grant recipients' facilities. Members, please join us for a brief ceremony at each location. It's a great opportunity to share in the excitement of our grants with our new partners, meet their staff, and tour their facilities.
You are welcome to join us for the day, but even if you can attend only one or two presentations, you'll walk away with a better appreciation of the impact we have made through our collective generosity. There is no charge to attend. Please register below by November 6 so we can give the agencies an idea of how many people to expect (space is limited).
Here is the schedule for our visits on November 8:
Northside Education Foundation/Construction Careers Academy:  9 a.m. – 9411 Military Dr. W.
The Magik Theatre:  10:30 a.m. – 420 S. Alamo St.
The Ecumenical Center:  1 p.m. – 8310 Ewing Halsell Drive
Project MEND:  2:30 p.m. – 1201 Austin St.
REGISTER HERE to attend an event.
Check out photos of Grant Award Night by clicking BELOW.  You may download any that you choose:  1) Click on the photo 2) Click on the downward facing arrow in the bottom right corner.
Click Photographs from Grant Award Night to see photographs.