Change in 2016 Grant Recipient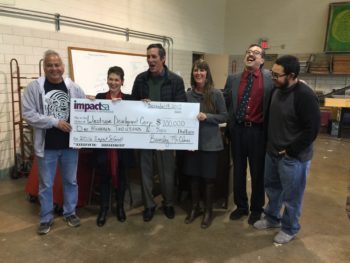 In 2016, Providence Place received a $100,000 grant from ISA to modernize and expand the Work Training Center (WTC), an integral part of the Center for Higher Independence (CHI) program, where young adults with disabilities learn workplace norms and job skills necessary for meaningful employment. In the spring of 2017, Providence Place received notice of Federal legislative changes within the Department of Labor which forced them to discontinue the WTC program.
In July 2017 they requested approval from the ISA Board of Directors to amend their project to a new program, the Work Environment Lab (WEL), which would allow students to obtain skills in real-world work environments: hospitality; grocery; office; and food service. Because the goals of the WEL were in essence the same as those of the WTC, i.e. to help young adults with disabilities learn job skills that would enable them to enter the workforce and become more independent, the Impact SA Board approved the project change.
Before Providence Place was able to implement the WEL program, the Texas Workforce Commission released new program standards for agencies that provide residential vocational rehabilitation services. These changes would greatly affect the quality of the services they had historically provided for their students with disabilities, and go against not only their values and mission, but also the students' dignity and independence. Providence Place felt they had no other option but to close the 43-year-old Center for Higher Independence. It is important to note that, while Providence Place was closely monitoring the changing political climate, they did not rush to spend any of the $100,000 that would not hold the integrity of the grant.
Providence Place will continue to provide transitional housing for young adults with disabilities.   They will expand their adoption and parenting programs and target run-away youth and youth with a history of human trafficking. They will receive a Support Grant of $16,020 from Impact San Antonio, which is the amount they would have received as a finalist in the 2016 grant cycle. We commend the staff of Providence Place for how they handled this situation with perseverance and integrity.
Because we are committed to distributing all of our members' grant contributions, we have gone back to our membership vote at the 2016 Grant Award Night, to determine the proper recipient of the High Impact grant. We are pleased to award The City of San Antonio Westside Development Corporation, which had already received a 2016 Support Grant, $83,980 to complete their La Printeria project. Needless to say, they were elated to receive the news when we surprised them with the ceremonial check. Congratulations to Westside Development Corporation and the La Printeria team.