Impact SA's 2018 Membership Kickoff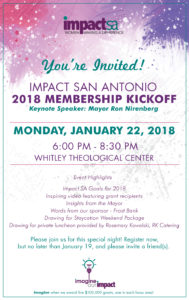 Each year we award all of our membership contributions to deserving nonprofits in the form of $100,000 grants.  As a result, we start over every year recruiting our membership and building our grant pool.  Our Kickoff event begins our membership recruitment cycle for 2018.  Bring women who you think would be interested in knowing more about this unique form of women-based philanthropy through collective giving.
What to expect:
An enjoyable evening where you meet other Impact SA Members while feasting on hearty appetizers
Gaining an appreciation for what Impact SA is all about and our goals for 2018
The debut of a video focusing on the impact we have made through our nonprofit grant recipients
An engaging presentation by our Mayor and the opportunity to hear his perspectives about the nonprofit community in our city
The opportunity to join this amazing group of women who have already contributed over $2.6 million into Bexar County and the surrounding counties
The opportunity to participate in a drawing to receive a private luncheon by RK Catering
The drawing for Impact SA's Staycation Weekend Package for anyone who joined or renewed their Impact SA membership by January 5th.
Help us set the pace as we Imagine Our Impact when we award five $100,000 grants through 500 members.