2018 Kickoff Gets Us To 200! Mayor Praises Our Approach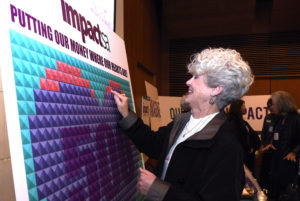 There was plenty of excitement at the Impact San Antonio Membership Kickoff event Monday, January 22nd, with almost 300 in attendance. About forty women joined or renewed, bringing our membership count to over 200. This record-breaking start means that we already have fully funded two High Impact grants! We have only 300 members and three more grants to go to reach our goal of five grants, one in each focus area. So, a big thank you to those members who have helped us gain momentum by renewing or joining early.
The program began with Impact SA President Lora Watts sharing the Impact SA story. She covered our various levels of support, recognized our corporate sponsors, and honored our five-year and ten-year members. Member Lavonne Garrison, Senior Vice President at Frost Bank, one of our sponsors, talked about the bank's contributions to the community.
A special part of the evening was the debut of the 2018 Impact SA video, "The Impact We Make". It features five of the agencies that have received our High Impact Grants: Westside Development Corp./La Printeria, Girls Inc., SLEW Cancer Wellness Center, Bexar County Partners for Youth, and Roy Maas Youth Alternatives. The video got a big round of applause from the crowd. View The Impact We Make.
Another highlight of the evening was our keynote speaker — San Antonio Mayor Ron Nirenberg, who spoke about the value of nonprofits in San Antonio and answered questions from our members. He praised Impact SA's "innovative approach" to philanthropy and said it "demonstrates the impressive impact of women in San Antonio." He added, "Your five focus areas are spot-on, and we need you more than ever."
Members and guests who joined or renewed at the event wrote their names on a pink sticker that they placed on one of the 500 squares located on our new "Hearts Together" poster, which is a new way we're tracking our progress. We invite you to claim your place on the heart and join other Impact SA members as we build toward 500 memberships in 2018.  The heart will travel from event to event where new or renewing members can add their personal stickers. Renew or join online and we will add your sticker for you!
Another bonus announced for joining by May 15— receive a year's subscription for SA Woman magazine, generously offered by new sponsor Mike Gaffney, publisher SA Woman.