Refer Your Friends and Family!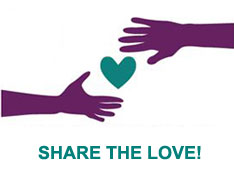 February is the month of love, and it's time to share your love of Impact San Antonio with your friends and family! As our membership drive continues, think about the women you know who would enjoy being part of Impact SA's special brand of philanthropy. It's one of the best gifts you can give them.
Word of mouth is our most powerful recruiting tool. In fact, about 95 percent of our new members are referred to us by current members. Referring your friends and family is easy, and there are multiple ways to do it.
Personal reach outs: Call your friend or family member on the phone or schedule a meeting.
E-mail: Use our link to send a customized message to women you know, including your Linked In and Facebook connections. Just go to Refer a Friend on our website.
Invite her to events: Your friend or family member can meet the women of Impact SA, learn more about it and feel the energy of the organization.
Social media: Join Impact SA's Facebook page @impactsanantonio and repost our news to your own Facebook friends.
Reach out to the Board for help: E-mail impactinfo@impactsanantonio.org.
If you aren't sure what to say in your conversations with potential members, here are some tips to make it easy.
Share your enthusiasm and belief: "Enthusiasm" means "I am sold myself," and that fact can go a long way toward engaging the women you know. There is no "right way" to do this, so simply relax, be yourself and show what you know.
Listen to what appeals to the woman you're talking with. Women join Impact SA for a variety of reasons, including networking with women of like mind, membership on their terms, doing meaningful volunteer work that matches their talents, having 100 percent of their basic membership fee go to grants, making a difference in the community, and so forth. Assure her that she can participate as much or as little as she wants.
Seal the deal: Issue a direct invitation to join. This is very important!
Top reasons women love being part of Impact SA – share your reasons too:
We are a diverse group of interesting, like-minded women united by a common purpose – to make a positive difference in our community.
We each contribute $1,000 and pool our donations to create as many $100,000 grants as our membership numbers can support.
Our money stays local. We fund grants in one of five focus areas: Arts and Culture; Education; Environment, Recreation and Preservation; Family; and Health and Wellness.
Members have an equal vote for the nonprofits that will receive the grants.
Every dollar that is donated goes toward our grants – 100 percent. And we provide oversight after the grant is awarded.
Membership is on your own terms. You can be as involved – or uninvolved – as you choose.
As of the end of 2017, Impact SA awarded $2.6 million in grants since the organization was formed in 2004.
Our membership drive runs through May 15, and we are shooting for at least 500 members so we can fund five $100,000 High Impact grants. So show your love for your friends and family by inviting them to join! If they do, you'll be eligible for our Destination Giveaway Drawing for two tickets to anywhere in the continental U.S.