2017 Impact San Antonio Leadership
Beverley McClure, President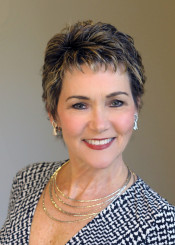 Joining Impact San Antonio was one of the easiest decisions I've ever made. When I write my $1,000 check to Impact San Antonio, I know it will be multiplied by the power of the other women in our organization, and then awarded to a deserving agency after a thorough review process. Making an impact, working with and getting to know other like-minded women, and learning more about the amazing organizations available to help our community – all of this comes with writing a simple check.
As an executive leader, coach, consultant, facilitator, and business owner, Beverley draws upon a diverse career of over three decades with the world-renowned customer service champion, USAA. During her tenure there, she progressed from front-line employee to a variety of senior vice president positions, in staff and multiple line-of-business operations.
Following her career at USAA, Beverley provided executive coaching and consulting, first through her own company, Fresh Perspectives, and then, in 2010, working for Endeavor Management, a strategy consulting firm.
Now fully retired, Beverley has shifted her professional experience to serving on for-profit and nonprofit boards. She serves on the Board of Directors for Horace Mann, a publicly traded, multi-line insurance and financial services company serving educators and their families. She serves as a member of the Board of Trustees for the Cancer Therapy and Research Center Council and serves as Chair of Patient Services and as a Soul Friend volunteer. She is also involved in several ministries through St. Francis of Assisi catholic church and serves on the board of Women's Sacred Songs, an organization which provides music ministry and spiritual retreat experiences for women in need. After serving and chairing the Board of SAMMinistries from 2006 to 2013, she is now a member of the SAMMinistries Advisory Council.
Cynthia Schluter, Vice President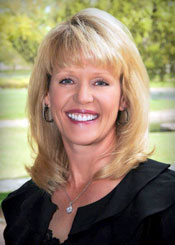 I became a member of Impact San Antonio within an hour of attending my first event! Not only was I joining a group of incredible women, many of whom I would never have met otherwise, but I was positively impacting my community in a way that I could not do on an individual basis. The concept behind Impact is brilliant – it empowers and unites women who, together, help those in our city who need it most.
After graduating from Trinity University, Cynthia started her career at SWBC in the Mortgage Insurance Division. After her second son was born she took "early retirement" to be a stay-at-home mom. However, her retirement lasted less than two years at which time she joined her husband Thomas in running their company Beckwith Electronic Engineering Company. Together they have grown their commercial life-safety and communications company from 15 employees in San Antonio to over 90 employees in Austin and San Antonio.
With both of her sons in college, Cynthia now has a little more time to participate in many of the activities she enjoys like tennis, snow skiing, biking and kickboxing. She also serves on several other boards including the Trinity Board of Visitors, CRTC Council, Dominion Country Club and Student Ministry Development at University United Methodist Church. While Cynthia and her family love to travel the world, they also spend as much time as possible in their "other" favorite place: Jackson Hole, Wyoming.
Chris Lucerne, Secretary; Co-Chair, Member Engagement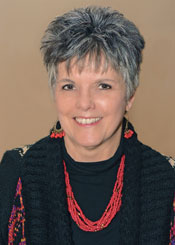 When I choose my volunteer work, I want to give my time and talent to an organization on a solid path of making a significant difference in our community. I also want to work and play with other devoted and inspired volunteers who are authentic, talented, collaborative, and compassionate. Impact San Antonio and the women who make it thrive are all that and more! I am honored to serve on the board of this amazing organization.
I believe in the innate goodness of humankind, and I know that at the heart of each person lies a desire to make a difference in the world, to live a satisfying life, and to enjoy meaningful work. For over 25 years my career in the field of human development has allowed me to support thousands of people to do just that. My current focus is as an Executive and Personal Life Coach and workshop facilitator, where I coach and train CEOs, executives, managers and teams, to expand their leadership proficiency and team effectiveness, while creating businesses that thrive. As a Master Certified Coach, I offer expertise in inspirational leadership, mindful relationship with self and others, emotional literacy, and whole-brain manifestation. It is my pleasure also to coach individuals to create joyful and purposeful careers, relationships and lives.
As past president of the San Antonio Professional Coaches Association (SAPCA) I also served in many volunteer capacities for the International Coach Federation. I am the co-creator of the transformational program Imagination Made Real, A Path to Reliable and Sustainable Manifestation.
Kerry Quinn, Treasurer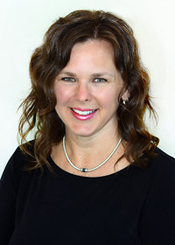 Kerry Phillip Quinn has worked as a nonprofit executive for the past 18 years.  She served as the CFO of Catholic Charities and Boys & Girls Clubs of San Antonio, as well as the Director of Finance at Seton Home.  As an independent consultant with Beyond the Bottom Line, she works with nonprofits across the service spectrum.
Kerry received a Bachelor of Arts degree from Texas Tech University and completed post-graduate work at the University of Vienna as a Rotary Ambassadorial Scholar.  In 2003, she earned a Certificate in Nonprofit Management from UTSA.
Kerry is the proud mother of a 21-year old daughter, Ella, a senior at Texas State University.  Her son-in-law, Dalton, is stationed at Pearl Harbor as a submariner.  In 2013, she married Chris — and his three sons.  Two live in Colorado, and the youngest is a freshman at UTSA.  As a member of Impact San Antonio for four years, Kerry has served as a grant review co-chair, grant review committee member and financial review committee member – and now treasurer.
She has been involved with Fiesta for the Mind (TEDxSanAntonio) since 2013 and served as Board Treasurer.  She is an active member of the Rotary Club of San Antonio.  In November, she was voted onto the board of the San Antonio Public Library Foundation.  She and her husband reside in Olmos Park and remain active in both Boerne and San Antonio with volunteer involvement and community support.
Mary Ballenger Brook, Co-Chair, Membership Recruitment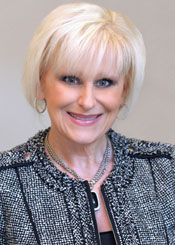 My first Impact SA membership event was in 2010.I immediately knew that I wanted to become associated with this dynamic, diverse, devoted and impressive group of women! Since that time, I have experienced the power of collective giving and witnessed how ISA's grants have impacted area nonprofit organizations and the lives of those they serve. I'm so proud to serve our community in such a powerful way, and encourage others to be a part of this amazing organization!
Mary is a native of the Rio Grande Valley and attended Southwestern University in Georgetown and UT-Austin. She worked for approximately 30 years as a legal assistant and a Realtor® with Phyllis Browning Company before retiring. Mary's involvement in community service began with the CTRC Council Board of Trustees, where she served as President and continues to serve as an Advisor and volunteer. She is currently serving as Chairman Elect with her husband, Steve, on the Board of Directors of the South Texas Blood & Tissue Center Foundation. Mary is actively engaged as a community volunteer, serving on various boards, including Impact San Antonio; Cancer Therapy & Research Center Foundation; and the Ecumenical Center Foundation.
Mary's favorite pastime is spending time with her husband Steve and their two dogs. High on her list of priorities is visiting with friends. When time permits, she and Steve enjoy traveling.
Alicia Thomas, Co-Chair, Membership Recruitment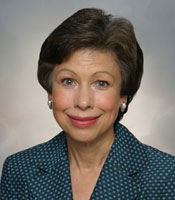 Alicia Hill Thomas began her career teaching in Edgewood ISD, and taught in North East ISD where she also served as a Principal and Executive Director. For ten years, Alicia was the Associate Superintendent/Chief Instructional Officer for North East ISD after which she served as the Deputy Chief Academic Officer for Houston ISD. Alicia Thomas received her B.A. and M.Ed. from Trinity University, and her Ph.D. from The University of Texas at Austin where she was a Fellow in the Cooperative Superintendency Program. In 1994, she was awarded the Harold W. McGraw Prize in Education for her work with the Carnegie Foundation for the Advancement of Teaching.
Currently, Alicia is an adjunct professor in the Tomorrow's Leaders Masters in School Administration program at Trinity University, and is a consultant for Moak, Casey & Associates, School Finance and Accountability Experts. She is a graduate of the Masters Leadership Program Class XI, and is currently on the Boards of Directors for Prospera HCS, the San Antonio Education Partnership, and SnackPak4Kids-San Antonio. Alicia and her husband, Ron, have two grown sons; son Madden and wife Charity live in San Antonio, and son Ben lives in Washington D.C. Their favorite pastimes include travel and fun with grandchildren.
Jane Fairchild, Co-Chair, Membership Recruitment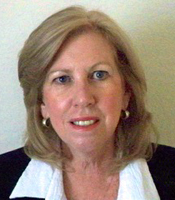 I am both honored and humbled to be a part of Impact San Antonio. Impact San Antonio is a community of women all joined for a common cause, to make a difference in our community, and we do! I have met amazing women, learned about the needs of our community and been part of the decision process on where my $1000 donation goes. I am always in awe of the dedication and energy of the women who are committed to making an Impact in San Antonio.
Jane retired from Nationwide Insurance after a 32-year career. Jane started in an entry level position and worked through many leadership levels to retire as an Associate Vice President of Customer Service. Jane's leadership positions provided opportunities to for personal growth in learning to be a strong leader, make hard decisions and foster a work environment that encouraged associates to be their best both professionally and personally.
In retirement, Jane is active in the nonprofit community. She is Chair of the American Red Cross Board, a member of The Children's Shelter Board and also Impact San Antonio Board as Co-Chair Grant Review Process. She is also active in her church, Our Lady of Guadalupe, Helotes. Jane is married, with 2 adult children and blessed with 3 grandchildren. In spare time, she enjoys time with family, friends and travel.
Clara Ernst, Membership Logistics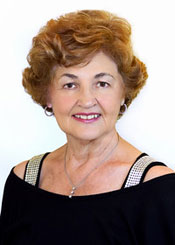 I love being a part of Impact San Antonio because I know that my contribution is going to several very worthy organizations that are embarking on major projects that will expand their services in the community.
Clara was born and raised in Westside San Antonio. She graduated from J.F. Kennedy High School and went on to earn an Associates of Arts from San Antonio College, a BBA from UTSA and an MBA from Southern Illinois University at Edwardsville. Clara held a variety of jobs while accompanying her husband on military assignments throughout the world, but it was a position at the Women's Self-Help Center in St. Louis, Missouri that exposed her to the impact that domestic violence has on society. The Center served women who were victims of domestic violence or childhood incest with counseling, job assistance and re-socialization into society after serving decades in prison. Since then she has been involved with women's issues.
While living in Germany she worked for Army Community Service, helping family members find employment. Her last position before retirement was Vice President of Administration at a local redevelopment authority. She has been on the Board of Dress for Success and served on the Development Committee of the San Antonio Food Bank. While a member of Executive Women International (EWI), she chaired the Scholarship committee and the GED Brunch Bunch. She is also a graduate of the Masters Leadership Program of San Antonio and Bexar County (MLP).
Lora Watts, Co-Chair, Member Engagement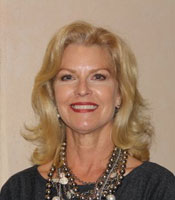 The community of women that comes together as Impact San Antonio to make a difference has provided the most reward and satisfaction for me.  The fact that 100% of all membership dollars are awarded in grants is extremely motivating; so many other organizations use so many dollars that have been raised to pay for overhead, administrative fees, events and parties—not Impact!
Lora retired from AT&T in 2009 after a 30-year career.  While at SWBT/SBC/AT&T, Watts held positions in San Antonio, St. Louis, Reno, Los Angeles, San Francisco, Sacramento and Dallas.  Often she was the only woman in the room when negotiating legislation or corporate policy, or managing budgets exceeding $100M.  The last position as Senior Vice President-Global Events put her in charge of AT&T's major events globally which included the Olympics, AT&T's golf sponsorships (Pebble Beach, the Masters), the Super Bowl, Formula One, and more.  As AT&T President in California, she worked with or met many of California's leaders and celebrities including Arnold Schwarzenegger, Maria Shriver, Elizabeth Taylor, Bill Clinton, Hillary Clinton, Ann Richards, Nancy Reagan, Prince Phillip, Tiger Woods, Willie Mays.
Retirement now finds Lora playing tennis, exercising, taking cooking classes, traveling nationally and abroad, spending quality time with family and friends, and volunteering and serving on nonprofit boards that are improving the San Antonio community such as Trinity Board of Visitors, American Red Cross, Cancer Therapy and Research Center (CTRC) Council, Cancer Therapy and Research Center (CTRC) Board of Governors, South Texas Blood and Tissue, and Dominion Country Club.  She and her husband also own three UPS franchise stores in the area.
Sandy Klein, Co-Chair, Sponsorships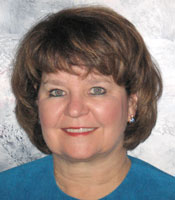 A few years ago, I was invited to attend an event for Impact San Antonio. From the moment I heard about the organization, I knew it was a way to really make a difference on a local level. I have also had the opportunity to meet an amazing group of women. This is truly one organization where you determine how much time you have to give.
Sandy is currently the Senior Vice President of Management Services for Touchstone Communities, a privately held skilled nursing and rehabilitation company that is based in San Antonio. She began her career in the nursing home industry immediately following graduation from Texas A&M, College Station. Prior to this position, she worked for a national nursing home company where she oversaw the operation of more than 100 facilities in Texas and California. She is currently on the Executive Committee for the Texas Healthcare Association, where she served as past chair, and is on the Council for the American Healthcare Association.
Sandy is past chair of the Board of Directors for Alpha Home, past President of the Oakes Club and has served on the Board of Directors for the American Heart Association. She recently celebrated her 40th wedding anniversary with her husband Paul.
Cathy Ritter, Co-Chair, Sponsorships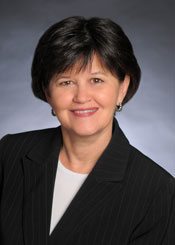 I am associated with Impact because of the tremendous amount of energy generated by a dedicated group of women. The Impact to the community is compounded many times over from the starting point of a single donation from the heart.
Cathy Ritter joined South Texas Money Management as a Senior Investment Advisor in July 2010. She brings a broad range of investment and financial services experience to the firm.
Prior to joining STMM, she spent 11 years with the Frost Financial Management Group as a Vice President and Portfolio Manager. She specialized in managing portfolios for trust and estate clients. In addition to this role she served as a statewide marketing and business development officer for the investment group.
Cathy started her career in investments at Frost as a research analyst covering consumer discretionary and durable goods sectors. She was responsible for researching and picking stocks from these sectors for investment in the Core Portfolio product. Prior to the investment industry, she worked in the financial services industry specializing in the mortgage area for 24 years.
Cathy holds Bachelor's and Master's of Business Administration degrees in Finance from the University of Texas at San Antonio. Her professional affiliations include the San Antonio Estate Planners Council, the Association of Fundraising Professionals, and the Financial Planning Association. She also currently serves on the board of Alpha Home, a nonprofit organization licensed to provide substance abuse treatment for women, and on the board of the UT Health Science Center-School of Nursing.
Cathy Foose, Co-Chair, Agencies and Applications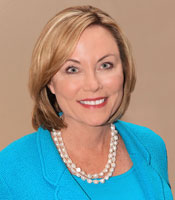 I love the Impact San Antonio value proposition. By combining my donation with those of hundreds of likeminded women, ISA provides transformative grants to nonprofit organizations delivering life changing services to people in our community. I am honored to serve on the Board of this remarkable organization.
Cathy's career in higher education and entrepreneurship includes over 30 years of experience in key leadership positions in fundraising, business and economic development, and entrepreneurship. She served as Assistant Vice President for Development at Texas A&M University-Corpus Christi, Director of Planned Giving at Texas A&M University-Commerce, and Director of Entrepreneurship Training at Collin College where she created a nationally recognized award winning entrepreneurship training program for women through the Ewing Marion Kauffman Foundation. The program was responsible for equipping and launching more than 700 women owned businesses.
Cathy attended Sweet Briar College, graduated from Baylor University and holds a JD from Texas Wesleyan University School of Law. She and her husband Dennis enjoy traveling and spending time with their children and grandchildren.
Kim Gilbert, Co-Chair, Agencies and Applications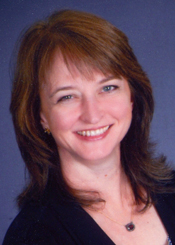 Three of the main reasons that I joined Impact San Antonio as soon as I learned of it was that Impact SA makes large, transforming grants to our area nonprofits, that every dollar of the $1000 donations goes to the organizations and that a diverse and talented group of philanthropic-minded women have come together to make it happen. I have a great passion for Impact SA and I am honored to be a part of this circle and to have an opportunity to serve on the board.
Kimberly ("Kim") Gilbert is the sole proprietor of Kimberly Gilbert Architecture. She is a graduate of Texas Tech University with a Bachelor of Architecture. She was employed with Richard Mogas Architects and Beaty Saunders Architects before starting her own practice.
Kim served on the Board of Adjustment of the City of Olmos Park for 12 years and was Chair of the Board for several of those years. She has also served on other committees for the city related to design, development and planning. She has also been an active volunteer serving on various boards, planning committees and as a mentor in her local school district during the time that her daughter was a student.
In her free time she enjoys traveling and spending time with her husband and grown daughter.
Hella Scheuerman, Co-Chair, Grant Review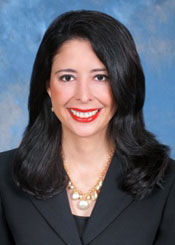 I joined Impact SA in 2015 and served on the Grant Review Committee for Health and Wellness. It was such a fulfilling and rewarding experience to be a part of this wonderful organization! I was very impressed with the member training, grant review process, and outreach to the community. Impact San Antonio truly brings amazing women together to make a significant impact in our community, year after year.
Hella is an attorney in private practice with the Dilley Law Firm, P.C. She obtained her law degree from St. Mary's University School of Law. She has 20 years experience in handling all types of Civil Litigation. She specializes in litigating wrongful death, personal injury, products liability, construction defect, premises liability, auto and trucking cases, first-party insurance cases and probate litigation. Hella is Board Certified in Personal Injury Trial Law by the Texas Board of Legal Specialization. She has been named by Scene in San Antonio Magazine, "San Antonio's Best Lawyers," in personal injury, civil litigation, and general litigation.
Hella also currently serves on the Board of the Bexar County Women's Bar Association, she is a Member of the College of the State Bar of Texas, Fellow in the Texas Bar Foundation and serves as a Faith Formation Catechist in her local Parish. She has been an active community volunteer with many organizations, including Young Women's Leadership Academy, St. Mary's University School of Law and Girls Inc. of San Antonio.
Donna Harrison, Co-Chair, Grant Review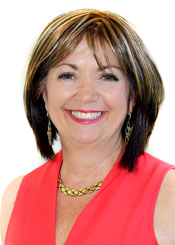 I am thrilled to be on the Impact San Antonio Board, both because of the impact that we have in the community and for the opportunity to work with the amazing women who are ISA members.
Donna is retired from AT&T where she was a vice president in the marketing organization.  She served in a variety of assignments at AT&T, including product management, business and consumer marketing and merger integration planning.   Since retiring, she has focused on volunteer leadership positions both locally and nationally.  She has served on the national Board of Trustees for the Unitarian Universalist Association for the past four years and is currently serving as the Vice-Chair of the Board.  She has also served on a variety of local nonprofit boards, including San Antonio Youth Literacy, Healthy Futures of Texas, UU Housing Assistance Corporation and the Opera Guild of San Antonio.  She is a graduate of the Masters Leadership Program (Class V).   Donna has an MBA from the University of Chicago and is also a graduate of the College at the University of Chicago.  She has two grown children.
Peggy Vroman-Gracy, Chair, Outcomes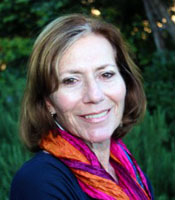 Volunteerism has always been important to me and my family. Not only does it enable me to show my gratitude for support I've received from others, volunteering helps me find balance and fulfillment. As a member of Impact, I found I was able to do something that would truly make a difference in other people's lives. And now, as a member of the board, I find ISA is making a difference in my own life too.
Peggy was born and raised in the metropolitan New York City area. She received a BA from Hunter College and a MS in immunology from Tufts University Medical School. For over 20 years she worked in biomedical research and academic research administration, during which time she also served on the boards of the Crohn's and Colitis Foundation and American Cancer Society in Fort Worth. Peggy took an early retirement, and in 2006 she and her husband relocated to San Antonio. After the move, she graduated from the Masters Leadership Program (Class V) and later she helped establish the Vroman Foundation, a nonprofit organization based in the Netherlands. Peggy is currently an honorary trustee of the Texas Biomedical Forum and is participating in a patient ambassador program for a major pharmaceutical company. She has been a member of Impact San Antonio since 2014, has served on several grant review committees, and is the liaison for the Friends of Government Canyon.
Gloria Garza Caughlin, Co-Chair, Marketing and Communications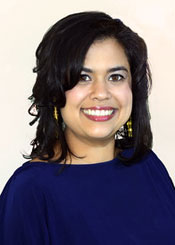 The more women we recruit, the more grants we give! I'm excited to join the Impact San Antonio Board to combine the power of social media to generate awareness, with the passion of our members. The women of Impact SA are committed to making a meaningful difference in our community, and prove it annually by recruiting hundreds of generous women. Each year begins anew, because our day 1 membership count starts at zero. Please 'like' the Impact San Antonio Facebook page, and follow us on the 2017 'Drive for Five,' as we strive to recruit 500 women. Let's make Impact San Antonio history, and award five high-impact $100,000 grants, one grant in each of our focus areas!
Gloria is currently a Competitive Intelligence Analyst for Hewlett-Packard Enterprise (HPE). Her primary focus is providing competitive briefings and positioning for a global audience, which spans executive leadership, technical, sales, and channel partners.
Gloria's career spans 15 years of progressive competitive analyst experience in the telecom (SBC/AT&T), cloud computing (Rackspace and HPE), and networking industries (HPE). Her skills, and a unique approach to running a competitive intelligence (CI) program in "start-up mode," are sought in the tech industry. She was recruited by then-start up Rackspace to create a CI program in 2007, and by HPE in 2011 to join a new cloud business unit in incubation. In November 2016, Gloria brings this skill set to the newly created Data Center Networking business unit at HPE.
Gloria is currently the Lead for Analyst Relations and Competitive Intelligence in the Hewlett-Packard Enterprise (HPE) Data Center Networking business unit. Gloria's career spans 15 years of progressive competitive analyst experience in the telecom (SBC/AT&T), cloud computing (Rackspace and HPE), and networking industries (HPE). Her skills, and a unique approach to running a competitive intelligence (CI) program in "start-up mode," are sought in the tech industry. She was recruited by then-start up Rackspace to create a CI program in 2007, and by HPE in 2011 to join a new cloud business unit in incubation. Gloria now brings this skill set to the newly created Data Center Networking business unit at HPE.
Gail Tomiak, Co-Chair, Marketing and Communications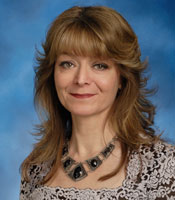 When I heard the ImpactSA concept: "recruit women to donate $1,000 each and pool these donations annually to make $100,000 grants to San Antonio area nonprofits…" I knew that I had to be a part of this.
Gail is currently a Director of Research at a San Antonio-based, Fortune 500 financial services company. She earned her Doctorate in Experimental/Cognitive Psychology from SUNY Buffalo followed by a fellowship at the University of Washington. From there, Gail moved to San Antonio where she worked at Brooks Air Force Base as a researcher before moving to her current position.
Gail's passion is to use her knowledge of human behavior and research methods to create simple and beautiful customer experiences. In her spare time, she can often be found obsessing over her golf game.